RESET Air
The RESET Materials Standard: Transforming the Evaluation of Materials in Projects
The RESET Standard announces the launch of RESET Materials, a data-driven performance standard designed to completely transform how materials and products are assessed within new and existing projects.
---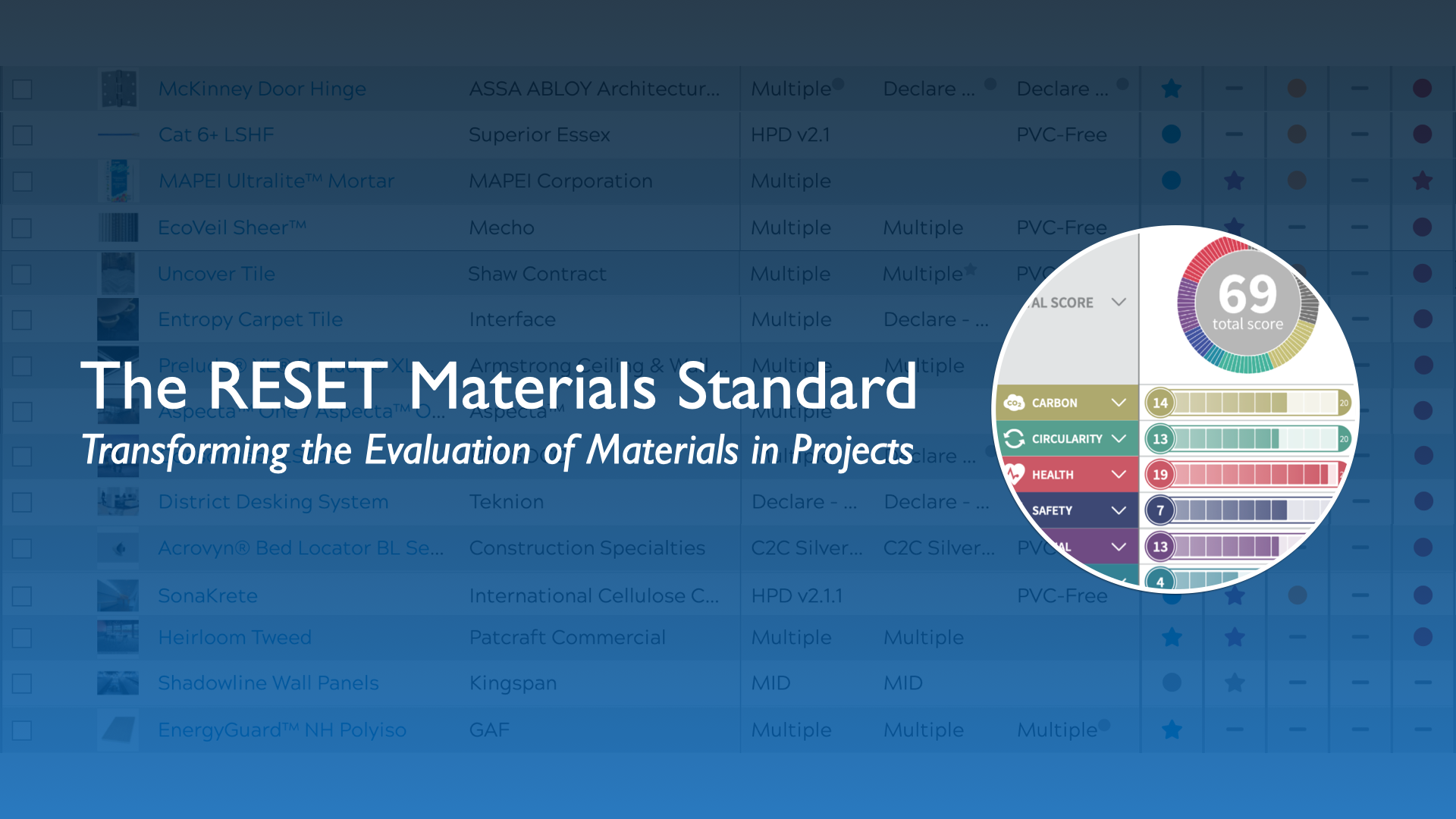 October 1, 2020. Quebec and Shanghai
"Building materials and products make up 100% of the indoor spaces that shelter us," says Raefer Wallis, founder of RESET. "When we stop and think about their impact on carbon emissions, water consumption, air quality and our exposure to harmful chemicals, we realize that they are the DNA of our buildings. Once set, it's very difficult to change the health and environmental outcomes of buildings."
As the DNA of our entire built environment, it's hard to imagine a more important topic than that of assessing and selecting building materials based on health, safety and ecological performance metrics. Yet, the unfortunate reality is that projects rarely assess materials according to these impact categories.
"To date, assessing individual materials or finishes has been frustratingly laborious, and what's worse is that the time spent on tracking documentation often is not met with much reward," says Anjanette Green, RESET Director of Standards. "There is a massive gap in the intent and the process that has needed a revamp for a long time. As an industry, we can do more from a health and environmental point of view, not to mention compliance, risk and liability mitigation, and ESG reporting. The challenge has been that the industry largely relies on manual reviews of compliance documentation (PDFs, letters of compliance or affirmation) that project teams and consultants just don't have time for. Further, the reliability, credibility and trustworthiness of existing processes is questionable even with the most earnest of intentions. RESET Materials is re-engineering the entire approach."
RESET Materials is the world's first standard built from the ground-up to leverage cloud software and its ability to rapidly score both products and projects, empowering project teams to make faster decisions informed by data and liberating them to spend time on higher value work.
"We've wiped the slate clean and have literally hit the reset button on product assessment and building standards," says Jean-Marc Desbiens, CTO of GIGA, ORIGIN and MATTER, the software ecosystem powering RESET Materials. "The RESET scoring engine evaluates millions of data points from ORIGIN and MATTER, accomplishing in seconds what used to take months of manual work. The process daylights and rewards products that actually perform, versus those that have traditionally slipped through the cracks of ambiguity."
At its core, RESET is first and foremost a standard for data quality and completeness designed to make performance data reliable, comparable and actionable.
Within RESET Materials, product performance data is first assessed and scored based on trustworthiness and actionability. Products are then scored for data completeness and performance. Serving as an additional layer of verification, RESET also integrates the mindful MATERIALS review process into the evaluation of a product's overall score.
Yet perhaps most significantly, because one score doesn't fit all, the engine that powers RESET can also be used to create custom scores, an expert function currently being piloted with Brightworks and the Brightside scoring methodology.
"Most of the large corporations we work with want to develop their own score," says Raefer. "However, as soon as they are able to score and benchmark internally, they want to know how they compare to their peers. That's only possible when a common data standard is being used, enabling users to score their data through different lenses. This approach is complex, yet extraordinarily useful."
RESET Materials can be used for new construction as well as operations and maintenance of existing projects. By documenting health, safety and ecological impacts of materials and products at the project level, RESET Materials is the first step in documenting buildings as material banks and empowering a circular economy.
The RESET Materials program will first be made available to qualifying RESET Accredited Professionals and expert peer reviewers as a pilot program on October 1st 2020. The standard will be fully published and made available to all projects following the review period. Projects interested in taking part in the pilot phase should contact us at info@reset.build .
We'd like to thank the experts who have taken the time to provide feedback both past and present.
Special Note: RESET Materials is a project standard that leverages existing building product declarations and certifications, with a priority focus on third-party reporting bodies that are cloud-based with connected chains of custody. Best-in-class examples include (alphabetical):
Allergy Standards
Berkeley Analytical
Cradle to Cradle Products Innovation Institute
EPA - Watersense
EPA - Energy Star
Green Business Certification Inc. (GBCI)
GreenCircle Certified
Global Green Tag
HPD Collaborative
International Living Future Institute (ILFI)
Intertek
MAS LLC.
NSF International
SCS Global Services
Vertima
TÜV Rheinland
---
About GIGA
GIGA - originally an acronym for Green Ideas Green Actions - was born in 2008 with a simple mission to make performance data on the health, safety and ecological performance of building materials easy to find and use, by publicly aggregating and publishing product databases. The GIGA databases (v1 to v4) are the world's longest standing databases to operate without a paywall.
GIGA has since grown into an international organization focused on the development of standards for high performance buildings, made accessible via cloud software. Today, GIGA's family of standards, resources and tools include RESET, ORIGIN and MATTER.
GIGA's mission has remained unchanged since its initial creation: Leveraging technology to make health and environmental regeneration accessible to as many people as possible.
About RESET
RESET - an acronym for Regenerative Ecological, Social, Economic Targets - was launched in 2009 as a product scoring framework designed to help users make sense of the growing data sets within the GIGA database. By the end of 2013, RESET had evolved into a project standard focused on building materials and air quality. At the time, RESET (Air + Materials) was being used to evaluate the completeness of VOC emission and material ingredient data while validating actual VOC emissions with air quality monitors.
Following China's "Airpocalypse" of 2012 / 2013 and the rise in awareness of global air quality problems, RESET Air expanded internationally as the world's first operational standard for buildings to measure and assess air quality performance in real-time. Meanwhile, RESET Materials was put on pause in order to completely reimagine and rebuild GIGA's database into its most ambitious project to date: The ORIGIN data hub.
About ORIGIN
A paradigm shift for the industry, ORIGIN is an international hub of product data designed to connect the world's leading databases of verified building product performance data. ORIGIN is GIGA's fourth generation solution for building product data management and publication.
True to the original ethos of facts not being hidden behind a paywall, ORIGIN data on the health, safety and ecological performance of product is freely available to all users. The ORIGIN hub is used to power the world's leading libraries of specialty data such as mindful MATERIALS. It is also used to power software enabling project teams to take action on product data such as MATTER.