RESET Air
Highlands Sports Complex is the world's first sports complex to achieve RESET Air Accreditation.
When it comes to air quality, this team doesn't play around.
---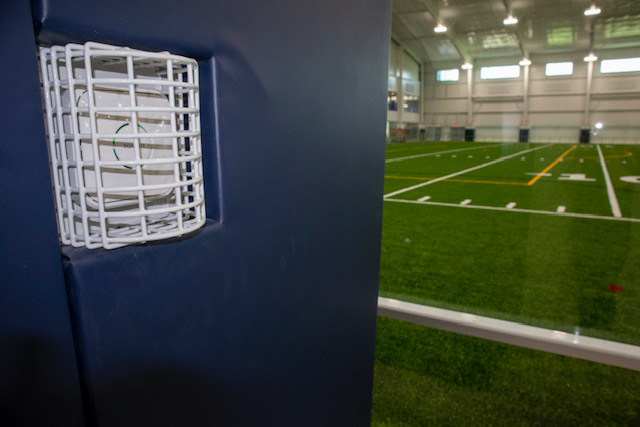 Article written by RESET with contributions from Auros Group.
---
Highlands Sports Complex, Wheeling, WV's impressive destination for youth sports, was conceived back in 2018. Consistent with the care they used to design the other 800 acres that make up the Highlands commercial center, Ohio County Development Authority, OCDA, created the concept of a youth sports and recreation facility that would draw thousands to the area every year. They also prioritized the need to keep annual operating expenses as low as possible. So, OCDA set goals of ultra-low energy and top-notch indoor environmental quality for their Sports Complex. They had no idea back in 2018 how important those goals would become by the time they opened in 2020.
The design team of OCDA, Mills Group, HF Lenz and sustainability experts, AUROS Group, knew immediately that in order to meet the building performance and cost goals, they needed a holistic plan; one that not only showcased a brilliant design fit for top athletes, sports enthusiasts and spectators, but one that gave Ohio County Development Authority the confidence that the energy and indoor environmental quality goals would be achieved in operations. It is a question most owners ask, "How do I set meaningful goals and know I got what I paid for?" It was this foresight that prompted the team to take intentional steps towards a performance-driven design with data at its core.
Using whole building performance modeling and simulation, the team was able to drive down energy consumption and optimize indoor environmental quality (IEQ). Sharing the model and simulation opportunities with the entire team created a sense of alignment. In addition, the team prepared the controls of the building to handle the growing opportunities for continuous monitoring and display of building performance data on a variety of digital devices. For example, the team calculated and designed a comprehensive deployment plan of commercial-grade, continuous, air quality monitors to ensure that data could help drive the building's operations and add a level of IAQ monitoring that couldn't otherwise be met.
Fast forward to 2020 and the grand opening scheduled for July. Little did anyone know that the entire world would be in the middle of the SARS CoV-2 pandemic. However, the Highlands Sports Complex project team proved to be lightyears ahead in their planning. Before the novel coronavirus had even been officially named, Ohio County Development Authority knew instinctively that a building designed and built for health and wellness needed to walk its talk.
In a moment of clarity, the team reached for the RESET® Air standard as the backbone for their approach to IAQ. RESET Air is the world's first and only IAQ standard for continuous monitoring. RESET, which is performance-based requires all projects to undergo an intense pre-deployment process prior to moving on to an approved deployment plan. Audited at both documentation phase and post-installation phase, projects that meet the requirements of the RESET standard represent the pinnacle of data-driven continuous indoor air quality.
"We knew that this project was going to be unprecedented. But given the fact that so many eyes have now finally turned to the importance of indoor air quality, we are proud to have been way ahead of the curve at this time when all of us are looking for confidence in quality of the air we breathe." said Greg Stewart, Ohio County Administrator.
Added Craig Stevenson, AUROS Group Co-founder, "we implement RESET on virtually all of our projects. It was a no-brainer for the Highlands Sports Complex. We knew how important IAQ data was before the pandemic and now, our projects with IAQ monitoring are leading the way. We can collect data at the most detailed level and understand it in the proper context. We have the power to use the data for diagnostics and analytics. This evidence-based approach to performance is what will bring people back to indoor spaces. Without data, we have no context and without context, we have no way to know if we are winning or losing?"
Data, when collected by monitors deployed according to the RESET Standard shows, with precision, the levels of CO2, TVOC, PM2.5, temperature, and humidity for each monitored space on a minute-by-minute basis. Given the use of the building, we were impressed by the innovative design the team developed to protect the monitors from impact.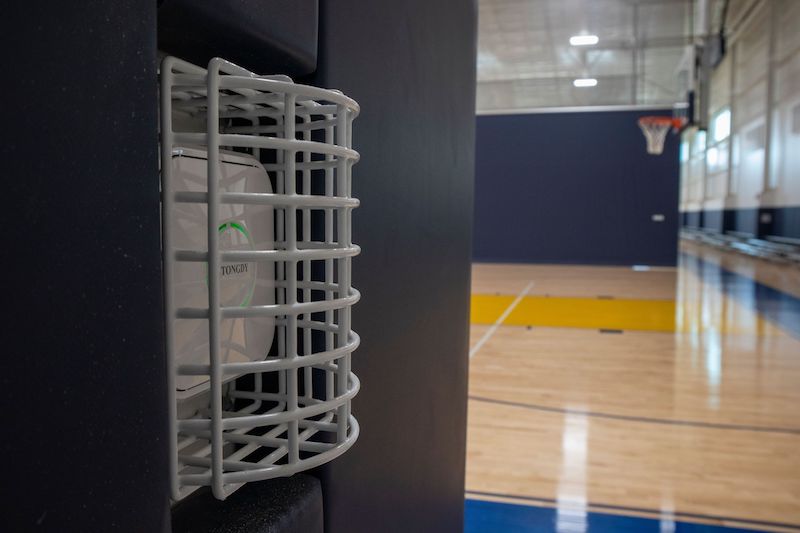 "Due the effects of COVID, our clients have become more aware than ever of safe indoor air quality. It seems we should all wake up and start realizing that air quality, both indoors and out, is going to be key to our safety, our health, and our future. We have the tools at our disposal to monitor and collect real-time data that can be analyzed and modified to ensure occupants' health and safety. This should, and hopefully will, become the norm in future air quality design," commented Vic Greco, Principal Architect, Mills Group.
Harvey Greenidge, the General Manager of the beautiful Highlands Sports Complex reflected, "The continuous monitoring required by the RESET Standard allows our Operations and Maintenance team to make necessary adjustments in real-time; not days later and, ultimately, creates confidence in the minds of our employees and guests."
Highlands Sports Complex is in the final stages of the RESET certification and WELL Building certification processes. It is now up to the building to show that it has "the right stuff", proving that it can meet and maintain the strict performances as required by the RESET Air and WELL Building standards. But based on the evidence-based game plan, drafted by this team, it's reasonable to assume that this community will soon be celebrating one shining example of what is possible when we demand that our buildings, cost-effectively, support the health and well-being of building occupants.
---
About RESET® Air
RESET Air is the world's first sensor-based, performance-driven building certification program where indoor air quality is monitored and measured in real-time. Buildings and/or spaces are required to consistently maintain healthy indoor air quality at all times, as defined by the Standard. RESET Air is comprised of comprehensive standards for hardware or sensor performance, installation, maintenance and data communication.
RESET is developed and managed by GIGA, an independent third-party organization that combines building standards development with cloud software to promote the affordability and scale of healthy buildings.
About AUROS Group™
AUROS Group believes that owners and project teams shouldn't have to make sustainable building decisions in the dark. The company provides technical analysis, planning, continuous monitoring and verification relating to whole building performance, specifically energy use and indoor environmental quality. With combined expertise in institutional, strategic planning, building science, and construction, the company works passionately every day to transform how building decisions are made.